After many months away from the school gates, it's time for all children to return. What better way to start than with a positive intention to be a plastic-free student? From lunchboxes to stationery, plastic has a habit of popping up everywhere at school, unnecessarily exposing children to harmful chemicals and producing mountains of waste.
Up and down the country, it's so inspiring to hear about the many schools that are receiving the Plastics Free Schools Award from Surfers Against Sewage (SAS), such as Lordship Farm Primary School in Letchworth and Hollinswood Primary School in Tellford. This is a brilliant initiative that educates teachers, parents and children about plastic pollution and also helps schools to reduce their plastic footprint.
There's lots that individual families can do to tackle plastic waste at school too. Follow our guide to going back to school plastic-free to get started…
Lunchtime
1. Got the bottle?
As a reusable bottle supplier, this has to be our number one tip – switch to a reusable water bottle! We know that many children carry reusable bottles to school, but these are often made from durable plastic. While this can be a good way to cut down on the number of single use plastic bottles you use, there are so many health benefits to switching to a stainless steel bottle.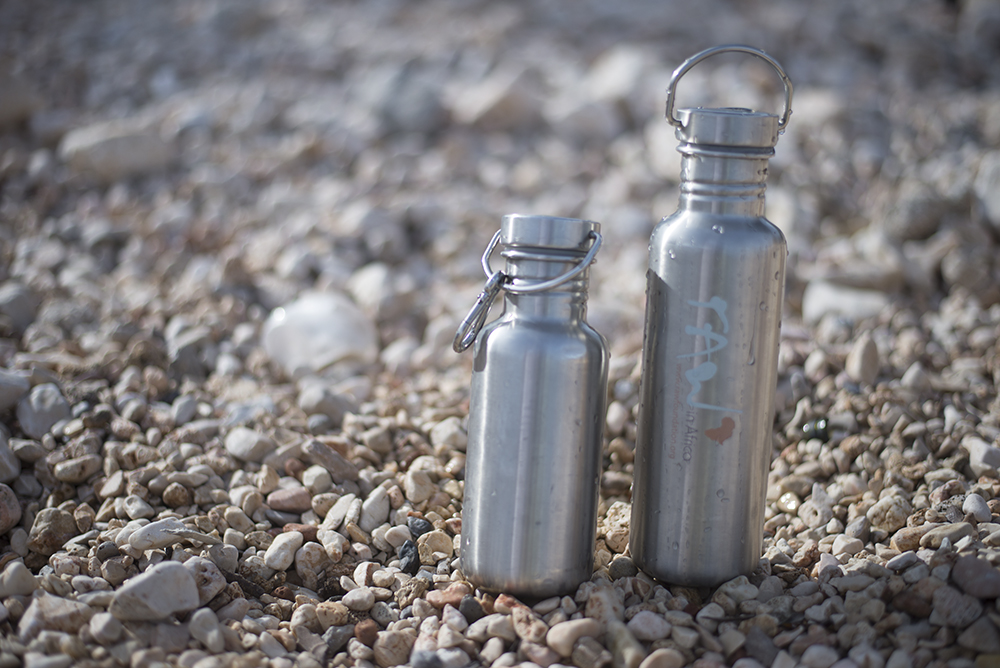 RAW's stainless steel reusable water bottles don't leach or react with the contents, are BPA-free and made from 100% high-quality food grade steel. Even aluminium bottles are often lined with BPA and can dent easily.
Quickly compare the benefits of each type of bottle below, and get in touch for a chat if you'd like to discuss getting RAW Bottles branded for your school.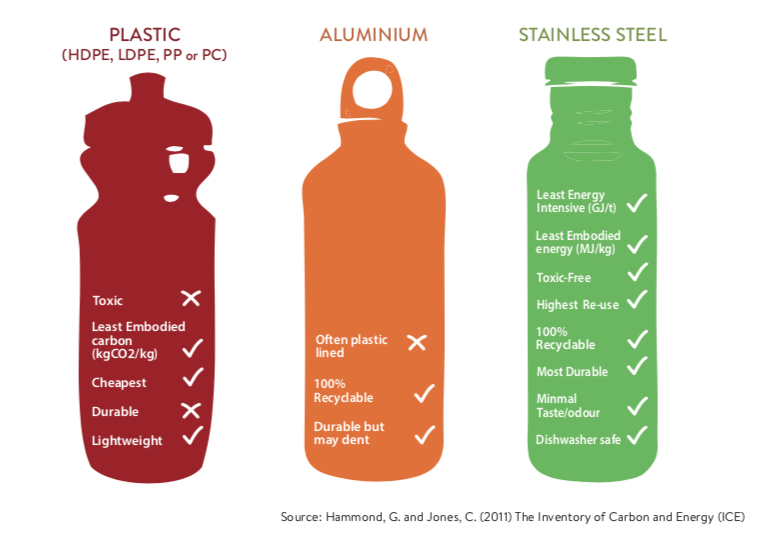 2. Box fresh
While durable plastic lunchboxes are reusable, they still need to be replaced regularly, contributing to the 15 billion plastic lunch boxes that are produced in China alone each year.
The alternative? Yes, you guessed it – get a stainless steel lunch box to accompany your bottle like the fab boxes available from our friends at Elephant Box! They are BPA-free, contain no chemicals and last a lifetime, making them a great investment.
Look for a bento style box with compartments to store different foods, which are perfect for packed lunches.
3. Wrap it up
Children love unwrapping their sandwiches at lunchtime, but we all know that clingfilm is a big no-no, being ditched after one use and ending up in landfill or making its way to oceans.
Instead, switch to reusable beeswax wraps – they'll keep sandwiches fresh and look much prettier. Buy them from your local zero waste shop or have a go at making your own with the kids – it's surprisingly simple.
Fabric bags are another simple alternative to keep sandwiches fresh and can also be used to separate different foods if you don't have a box with compartments.
Stationery
4. Write this way
It's every schoolchild's staple item – the humble pencil. You may not associate it with plastic, but many pencils have a plastic coating, so look for 100% plastic-free pencils, such as those made from recycled paper. And when it's time to reinvest in a new pencil sharper, opt for one that's made from metal.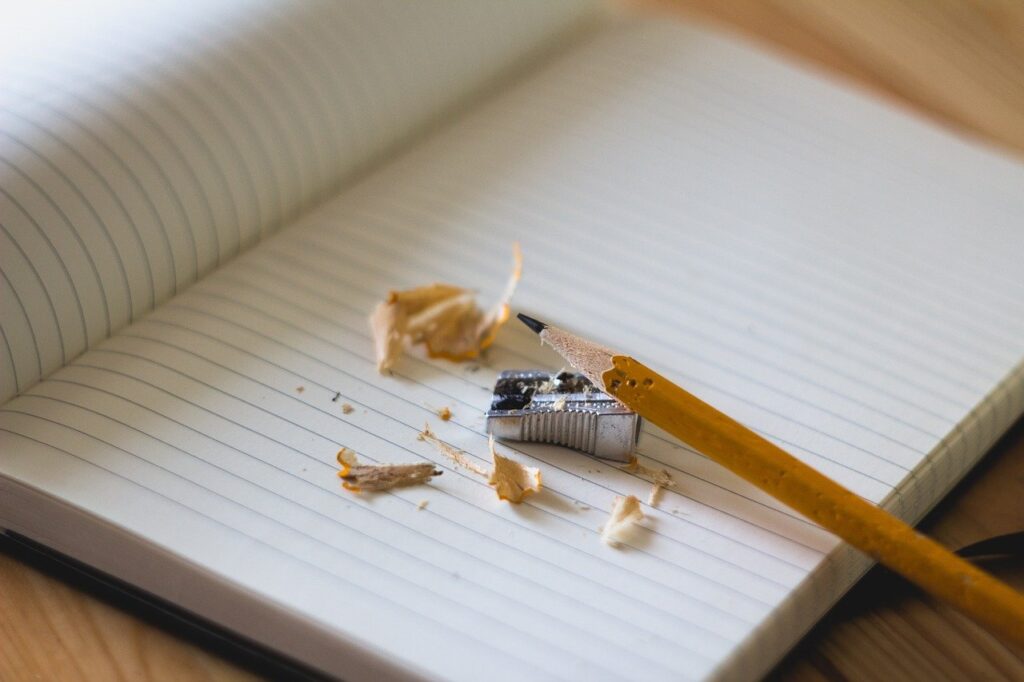 Plastic ballpoint pens may be cheap, but they don't last and are soon thrown away and replaced with another. Go for the traditional approach and invest in a refillable fountain pen to last them throughout their entire educational journey.
5. Plastic-free folders
Flimsy plastic wallets show up everywhere at school, but once the holes break or the folders split they are useless and need to be replaced. We love recycled cardboard binders instead – more stylish and more sustainable.
6. All set for maths
If your child is off to secondary school then it's probably time to get them a geometry set. Did you know that you can buy beautiful bamboo geometry sets which are entirely plastic-free and would make a wonderful gift?
Uniform and accessories
7. Stay safe
With this week's U-turn on school masks, many older children will now be required to wear face masks at some point during their school day. Recently, environmentalists have warned that the world is heading towards a global plastic crisis due to the estimated 194,000,000,000 disposable masks and gloves being used each month.
Now that face masks are an established part of our lives, it's clear that we must choose to reuse. The science shows that fabric masks should be washed regularly at a high temperature, so plan ahead and make sure your child has enough reusable masks to get them through the week.
8. Dress smart
Standard school uniform is often made with Teflon, one of a class of plastics known as fluoropolymers. Not only that, but it can be treated with chlorine bleach and contain toxic dyes.
Consider that your child wears their school uniform for around 35 hours every week and there's every reason to choose a more natural solution. Look for an organic cotton school uniform – better for the planet and your child's health.
9. It's in the bag
Kids love to get a new pencil case and school bag at the start of term, but think twice before you buy. Many are made with plastic that will tear easily and end up in landfill. Shop around for plastic-free alternatives and even have a go at making a pencil case together by upcycling old clothes.
Do you need a new kit?
10. Talk to your child before you buy
While children love to go back to school with shiny new kit, use this as an opportunity to talk to them about the effects that buying new products has on the planet. Teach them the mantra 'reuse, reduce, recycle' and answer these questions together before you click 'buy' or head to the shops:
Do I really need to replace my old item?
Can I make a new replacement instead of buying one?
Does a plastic-free and/or reusable alternative exist?
Can my old items be reused or passed on?
How can we avoid plastic wrappers in school lunches?
Main image: Food photo created by freepik – www.freepik.com