There's been lots to celebrate in the world of plastics recently – not least a long overdue announcement about a new law to ban a handful of pointless plastic items. Here we round up some of our favourite plastic news stories that have put a smile on our face this month…
Plastic legislation for England
At last, the government has announced that plastic straws and drink stirrers, and cotton buds with plastic stems will be banned from sale and use in England from next April. This is such a positive step forward and the news we have been waiting for.

Legislation like this is a great starting point for behaviour change and should inspire more sustainable business decisions and conscious consumers. But, while we're elated with this development, it isn't enough on its own.
We need the government to show continued commitment to the plastic crisis and ban all avoidable pointless plastic by 2025 at the latest. Our sister organisation RAW Foundation will continue to push for this and we'll be keeping a close eye on developments.
Going to a festival? Take your tent home!
This month, we were proud to support the AIF's Take Your Tent Home campaign, which put pressure on retailers to stop marketing and selling 'festival tents' as single-use items. It also encouraged festivalgoers to take their tents home when the festival finishes.
Why? It's estimated that 250,000 tents are left at music festivals across the UK every year. But it's a common misconception that they're collected and reused by charities – most aren't collected and can't be recycled, meaning the vast majority end up in landfill.
The average tent weighs 3.5kg and is mostly made of plastic – the equivalent of 8,750 straws or 250 pint cups. And, abandoned tents result in almost 900 tonnes of plastic waste every year. So if you're heading to a festival this year, make sure your tent goes home with you! Check out the campaign video to learn more:
High five to Flemish authorities leading the way with plastic laws
Talking of festivals, it was encouraging to read that events in Belgium will soon be prohibited from serving drinks in disposable cups, cans or PET bottles. The ban starts in 2020 and will be applicable to all events – from school parties to large festivals.
According to Flemish website Ovam: "Soft drinks will have to be purchased in glass return bottles or tapped via a post-mix system and served to the consumer in reusable cups. The same applies to beers that are tapped and poured from barrels or glass return bottles. If an organiser nevertheless chooses to offer disposable receptacles, he must reclaim 90% of the material flow (and from 2022 for 95%) – the burden of proof lies with the organiser."
This is exactly the kind of bold move we would like to see the UK government moving onto next…
Hackney Half Marathon goes plastic free
This month, Hackney Half Marathon was the first event of its kind to completely eliminate single use plastic. The event was organised by Virgin Sport and Hackney Council who estimated that "190,000 plastic water bottles were eliminated from water aid stations on the 13.1 mile route and replaced with 100% recyclable paper cups and 40,000 litres of water."
One Water also provided recyclable cardboard cartons at the finish line, helping to eliminate a further 35,000 water bottles.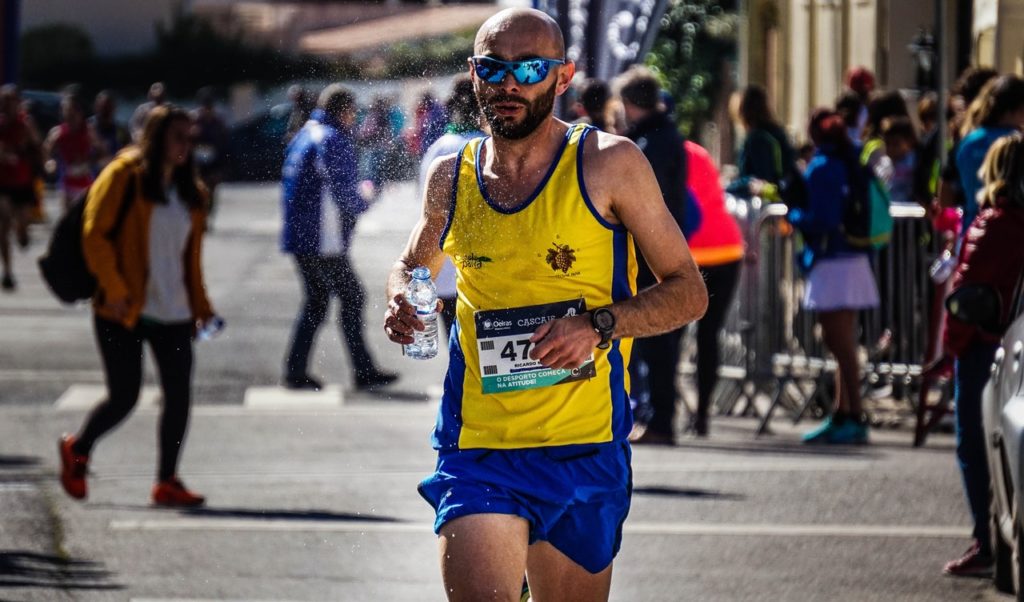 We're thrilled that a major sporting event has recognised the environmental impact of these marathons, and that it has taken positive steps to address it. Let's hope other similar events will learn from the changes they have made. We'd love to see RAW Bottles at events like this in future – watch this space!
Tackling plastic pollution with mushrooms and mussels
In last month's positive plastic stories round-up, we reported on a new funding programme developed by Waitrose to boost research into effective solutions to tackle plastic pollution.
The programme had over 150 applicants for funding, and now five outstanding projects have been awarded a share of £1 million, under the Plan Plastic initiative.
The funders were looking for innovation, and that's certainly what they have got – selected projects include mushrooms that can break down plastic waste, filtering microplastics from estuaries and coastal areas using mussels, and electronic beacons to track lost plastic fishing gear floating around in our oceans.
It was also wonderful to see a project close to our own hearts receive funding. The Youth Hostel Association (YHA) will get money to install free water bottle refill stations in 60 major youth hostels with the Refill scheme. We know that 200,000 bottles have been saved at London Euston Station alone, so these new stations will have a huge impact on helping to reducing more plastic consumption.
What positive plastic news stories have you come across recently? We'd love to hear about them – tweet us at @RAWBottles to let us know!