There's been lots of noise about festivals and plastic waste this year, thanks to Glastonbury's amazing commitment to banning single-use plastic water bottles, and a successful campaign to Take Your Tent Home.
RAW Bottles has been working with Shambala since 2014, so we know how committed the festival is to this issue. They have made some incredible strides towards going plastic-free and work tirelessly to find new solutions.
Not only have they banned the sale of plastic bottles on site since 2014 (and offered beautiful reusable RAW Bottles), they have been an industry leader in reducing plastic at festivals, recently involved in setting out a new Festival Vision for 2025.
We caught up with Shambala's marketing assistant, Kate Burgess, to find out more about their pioneering tactics and how they're influencing other festivals to do more…
In a nutshell, tell us about your festival
Shambala is a space to play, to reinvent, revitalise, and return to the world fuelled-up on the beauty of being alive. It's a playground, a realm for wild experimentation and alternative education, where unforgettable life skills are shared, learned and put to use.

We see Shambala as so much more than just a monumental party. It's a haven, a think-tank, a happening – all infused with a heartfelt, purposeful hedonism.
Why is the plastic issue so important to you?
The plastic issue is a hugely important one, simply because it is one that feels so within our grasp to fix. Plastic represents the long-lasting and disproportionate effect we as humans have on our environment and the disposable culture we have grown so used to.
Tackling the plastic issue seems like a key to fixing our relationship with our environment. In leading by example we hope to transform the events industry into being genuinely sustainable.
What are you doing to tackle plastic pollution and what problems and successes have you had along the way?
At Shambala, we've been spearheading tackling the plastic issue for a number of years. Rather than focusing on trying to recycle more plastics, which isn't a solution for a number of reasons, we are designing them out of the festival ecosystem through three key initiatives.
This started in 2014 when we banned the sale of plastic bottles on site and worked with RAW to provide reusable stainless steel alternatives. Since then our plastic mission has grown, becoming more ambitious every year in trying to tackle the plastic problem so pervasive in festivals and society at large.
Our Bring A Bottle Campaign partnered with Frank Water, bringing static and mobile hydration units to folks around the festival. We encouraged people to bring their own reusable bottles and also sold branded RAW Bottles, which are available at this year's festival too.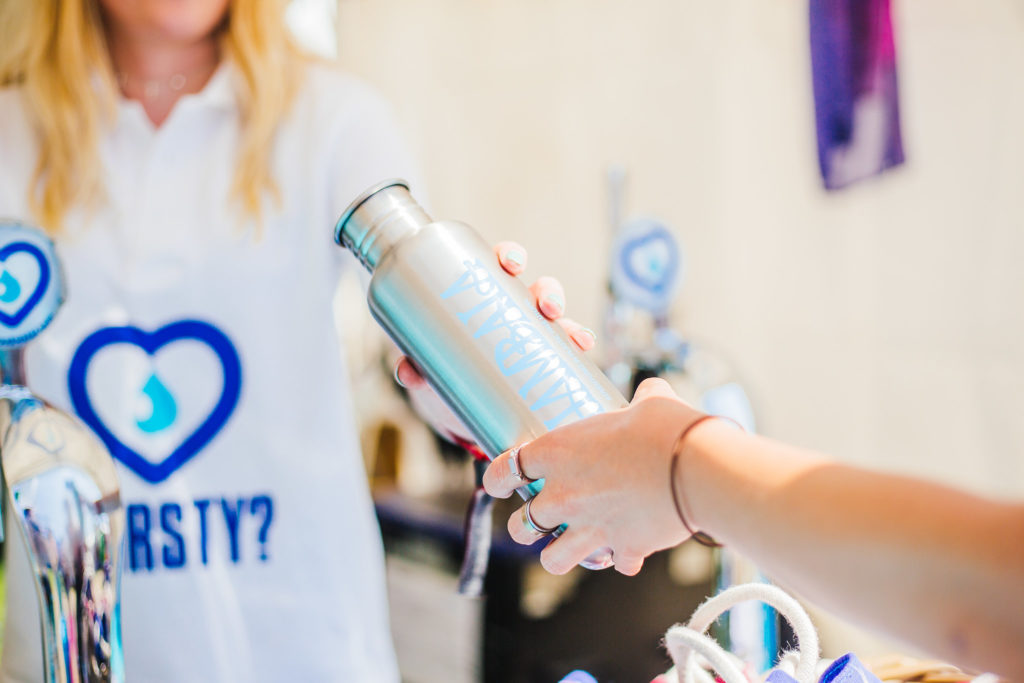 We've done the same with reusable hot coffee mugs. We charge a levy on disposable coffee cups which, even if 'eco', are often lined with hard to recycle polymer lining. Instead we encourage folks to bring their own.
In a further effort to ditch disposables, we also introduced a reusable bar cup scheme. By and large, people are very receptive to making these small changes, which makes a huge overall impact on our festival's waste footprint. We are always bowled over by the up-for-it attitude of our crowd!
Communication is an important aspect of these initiatives. We did have some miscommunication when we introduced reusable bar cups and people were taking them home, so we couldn't wash and reuse them for the next year.
We went some way towards solving this by creating an amnesty at the gate when people left the festival. We offered people the chance to win tickets to next year's festival by signing up as they handed their cups back in. Of course, some folks still do, so if you're reading this: don't take the cups – we need them!
Simple incentives like this really get people to subscribe to going plastic free at the festival. They create an exciting shift in behaviour which quickly becomes part of the fabric of the festival and people can then roll this out into their everyday lives.
Other areas we're tackling are micro-plastics in glitter, dramatically increasing reusable cable ties on site, menstrual products and festival costumes.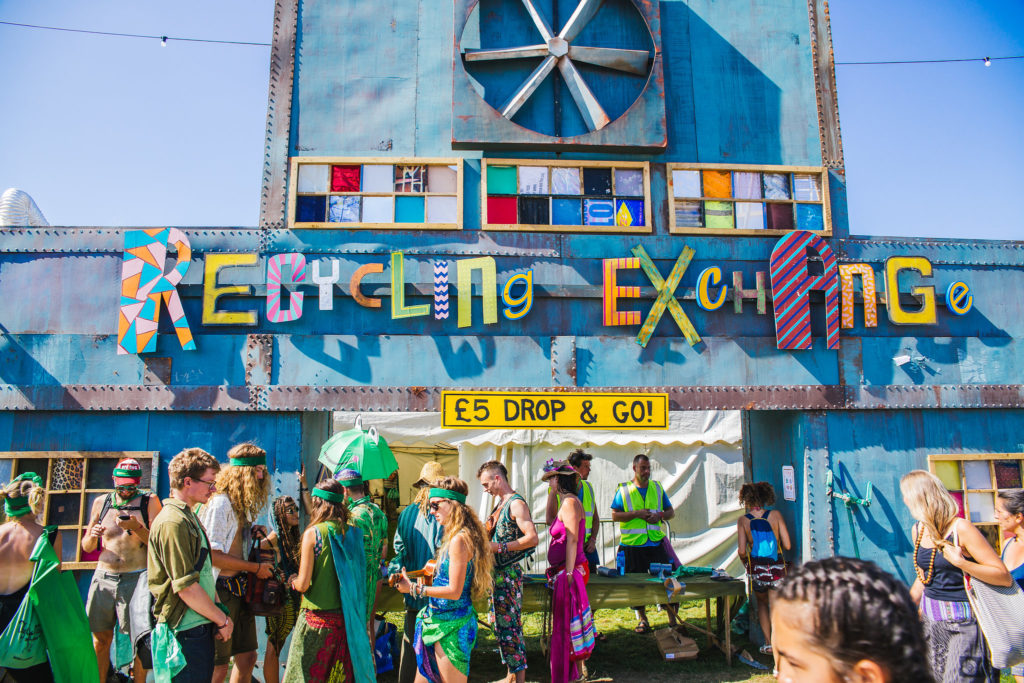 What would you say to convince others to take action on plastic?
The most exciting aspect of our work is the conversations we are able to open up as a festival. It feels deliciously within our reach to remove single-use plastic from Shambala's eco-system, and it's genuinely exciting to see this start to become a buzzword in the festival industry at large.
Plastic is a piece in the jigsaw of negative human impact on pretty much every ecosystem on Earth. It is predicted that by 2050 the oceans will contain more plastic than fish – that's how pervasive it is, and it ain't going away because plastic sticks around (the lifespan of a polystyrene cup is 500+ years).
What do you think your industry should be doing to make a difference collectively?
We're already making big strides and even bigger commitments. In 2018 the AIF launched its Drastic On Plastic campaign and over 60 independent UK festivals committed to going plastic free by 2025.
This year saw the bigwigs join in, with Glastonbury rolling out a refill scheme and a ban on the sale of plastic water bottles (something Shambala did five years ago). Ad there's some really exciting knowledge sharing happening around campaigns such as Festival Vision: 2025 run by Powerful Thinking.
Hopefully actions will ripple out and empower more festival and event organisers to follow suit. Smaller scale festivals can become a testing ground, where smaller events can pick up tricks and roll it out. Huge events, where the issue seems insurmountable, might then start being held accountable by their audiences and the industry at large.
Can you tell us about some other inspiring plastic pioneers or projects that you admire, and why?
No More Taboo, who help run our menstruation station, The Red Sea Travel Agency at Shambala! The tent itself is an amazing space for learning, demystifying and making periods inclusive, and there's a focus on empowering people to go plastic free on their periods.
The people who run No More Taboo are amazing at understanding what enables or inhibits people from making decisions around plastic. They're starting a conversation around creating sustainable solutions to period poverty and are empowering people to build a period-friendly society.
As a not-for-profit social enterprise their sales of reusable sanitary wear all go back into the work they do in creating access to a period safe planet and cross cultural education about menstruation.
How can people find our more about your plastic-free quest?
We've got a dedicated Green Shambala page on our website with a lot of information about plastic, as well as waste more generally, emissions, power and food.
At the festival itself, we've got content unpacking this synthetic stuff, including Carnival Tent's workshops using recycled materials.
Read all our Plastic Pioneer interviews here – we'd love to hear your suggestions for people or organisation to feature in future. Contact us with any suggestions.