As summer draws to a close, we're reflecting on a busy few months here at RAW. It comes as no surprise that the summer has flown by – festivals are our core client base, so we've been hard at work designing and supplying bottles for their events.
This year, we've been proud to work with many well-established festivals – some repeat clients, and some new to the mix.
How RAW Bottles supplies reusable bottles for festivals
We have a long-standing relationship with Glastonbury, so it was fantastic to continue to be Glastonbury's official reusable bottle supplier this year. This was especially significant as they really took on the issue of plastic pollution and banned sales of single-use plastic bottles at this year's festival.
Another festival we have long-standing close ties with is Shambala and we worked hard to create a beautiful bottle that incorporated multiple colours, large, detailed fonts and informative text. We're really pleased with the finished result.
From other music festivals such as Greenbelt, Boomtown and Underneath the Stars to cultural festival newcomers Hay Festival, Cambridge Folk Festival and Bromyard Festival, we have extended our reach this year. We have even sent our bottles to overseas festivals such as Musik I Lejet in Denmark.

Plastic education, information and guidance for festivals
But supplying reusable bottles isn't the only way we work with festivals. Through our sister organisation, RAW Foundation, lots of other activities are going on behind the scenes to help festivals remove pointless plastic from their events.
This all started back in 2014 when Raw Foundation was invited to take their 'Making Waves' Campaign to Shambala Festival and provide a reusable 100% stainless steel water bottle for them. Leading the way as the 'First Bottled Water Free Festival', Shambala's aim was to promote a sustainable plastic-free festival culture, and RAW was central to this.
RAW Foundation launched and published its first Plastic-Free Festival Guide in partnership with Kambe Events, the events company behind Shambala. The guide provided expert and practical advice on what steps can be taken by event organisers has been adopted by Glastonbury Festival, Shambala Festival and is available to all festival and events organisers.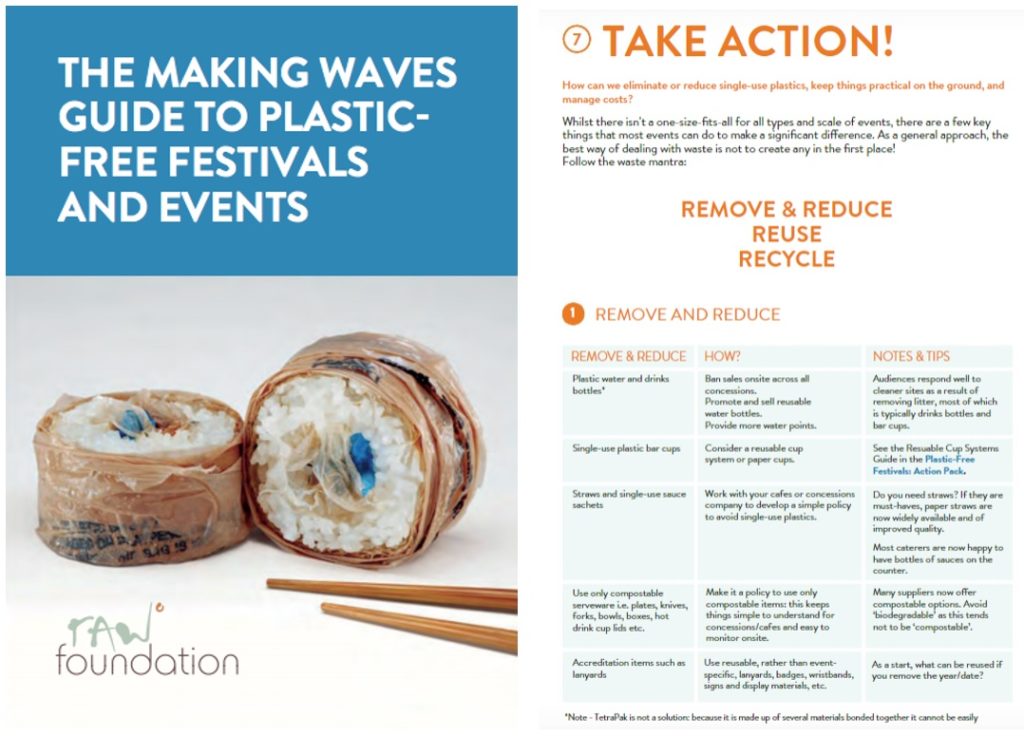 A second version has since been relaunched as the Making Waves: Plastic-Free Festival Guide, and additional resources for festivals goers and a reusable bar cups guide – all guides available to download for free here.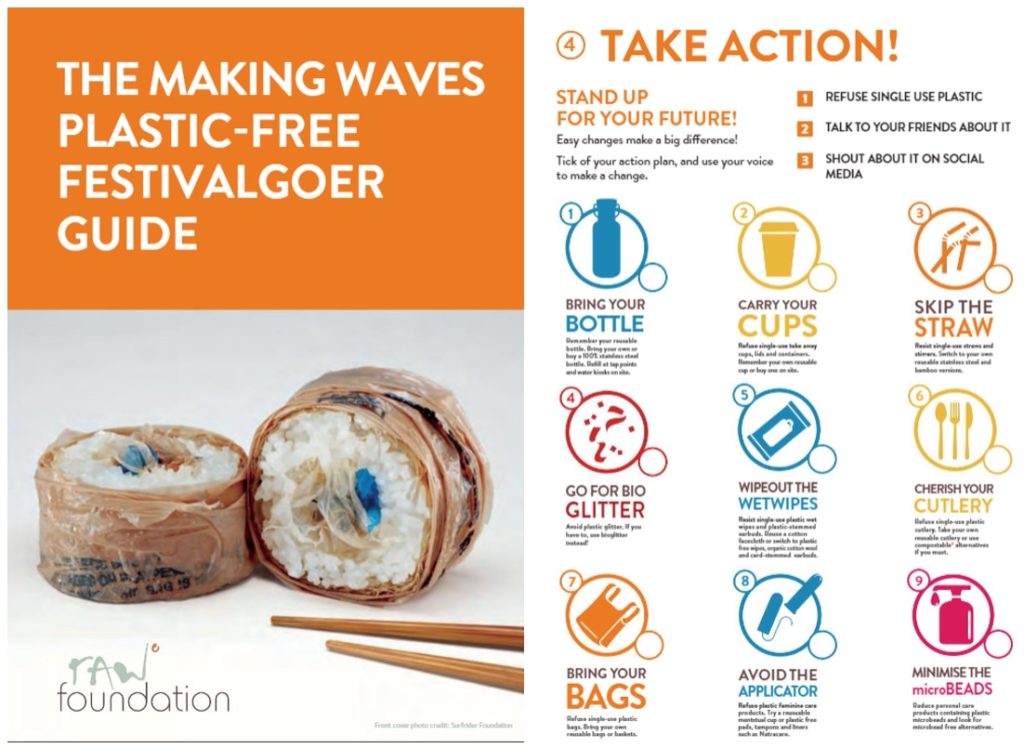 At the same time, RAW Foundation urged Glastonbury to step forward and take the lead on reducing single-use plastic waste. Over the past five years we have collaborated with Glastonbury on:
Re-piping and providing more tap points across the entire site
Designing and providing a re-usable 100% stainless steel water bottle for sale at the festival
Pulling in WaterAid to collaborate and provide 'free' water 'Refill' Kiosks
Providing Plastic-Free Festival-Goer Guides
Screening videos on the Pyramid and Other stage in between acts
Head to the Glastonbury blog to read more about how we were involved at Glastonbury this year. "Having banned the sale of single-use plastic drinks bottle at this year's Festival, we support RAW's work petitioning against the production and sale of single-use plastic," Glastonbury said.
Taking an industry-wide approach to pointless plastic
As time went on, it became clear that the festival industry as a whole could learn from the great things we had achieved with front runners such as Shambala and Glastonbury. After all, the transient nature of festivals and large-scale events means that convenience and speed is often favoured over environmental impacts. This attitude needed to change.
So, we worked closely with the Association of Independent Festivals (AIF) to create a campaign that would inspire festivals to commit to going plastic free. In 2018 we launched the Drastic on Plastic campaign in partnership with AIF to encourage festivals and pledge to ban single-use plastics. The core message of the campaign was re-use not single use. Organisers of more than 60 independent festival across the UK committed to eliminating all single-use plastic at their events by 2021.
The Drastic on Plastic Action Pack gave festival organisers in-depth resources to put this pledge into action. It included our Plastic-Free Festival Guide, with an overview of the action events can take, our Plastic-Free Festival-Goer Guide and templates for an A7 lanyard mini-guide. Changing to reusable bar cups is one of the key changes organisers can make, and this is being adopted by more events every year, so we also added the Reusable Bar Cup Guide.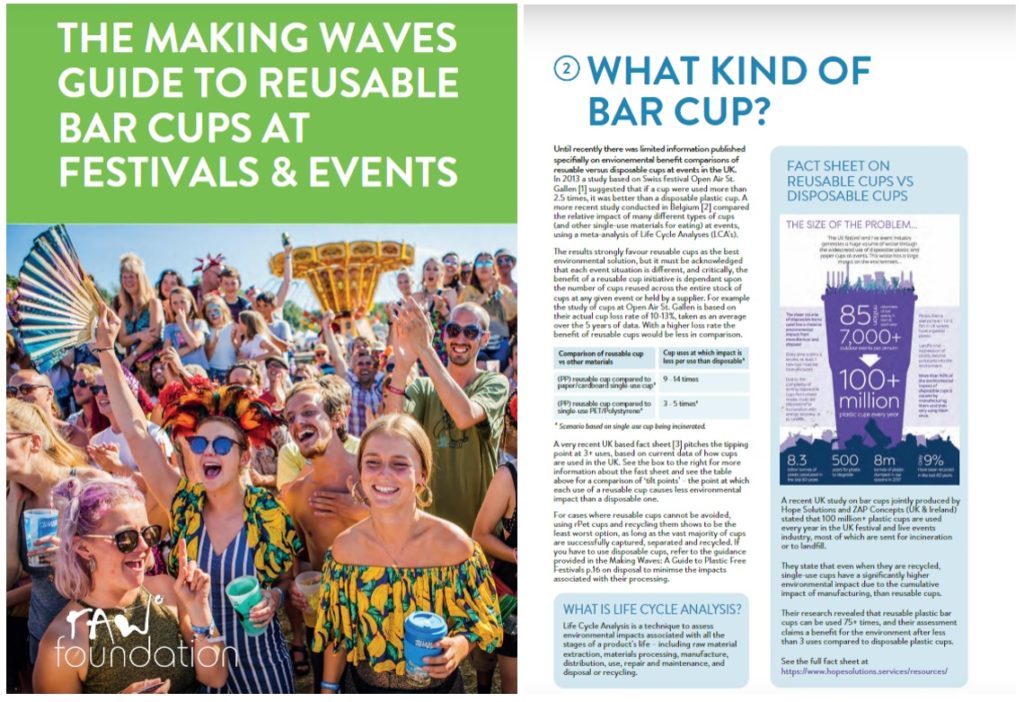 This year we've continued to work with AIF on its consumer-facing campaign, Take Your Tent Home, launched this May. In advance of the festival season, the campaign's core message was to urge festival-goers to 'Take Your Tent Home' and 'Say No To Single Use'. RAW Foundation collaborated on the creation of the campaign assets and message and helped to promote awareness of the campaign.
What's next in our quest to beat plastic pollution?
We're proud of what we've achieved so far within the festival industry and we'll continue to work closely with the AIF and individual festivals and events. But now is the time to get active on every level:
1.Festival Vision:2025 – We're backing this brilliant shared vision for a sustainable festival industry, being spearheaded by Powerful Thinking. It urges festivals to sign a pledge to achieve a 50% reduction in festival-related annual GHG emissions by 2025.
2. Demand more Action – RAW's research trips to Africa and South America show that the main culprits behind global plastic pollution are multinational companies such as McDonalds, Coca-Cola and PepsiCo. We believe that these plastic producers must be held to account by government and are calling for a tax on their plastic production. Find out more about our campaign and sign out pledge NOW.
3. Collaborate – We believe in the power of partnership – pulling on one another's strengths is the surest way to success, so we're looking to continue working with other brilliant organisations, such as the AIF, City to Sea and FRANK Water, to make sure we are creating the biggest impact.
4. Extend and develop our work with other sectors – EU Festivals and events, Sports events, Universities and the National Union of Students (NUS), Travel and retailers etc.
Main photo taken by Louise Roberts