For many of us, lockdown has encouraged a period of reflection on how the effects of COVID-19 are impacting the planet.
City streets are filled with birdsong rather than traffic noise, our skies are free of planes and we can smell this year's blossom. And yet, while there's an air of optimism about the planet's remarkable regenerative powers, there's a cruel parallel playing out as the use of single-use plastics soar.
The situation is shifting, but the planet's problems haven't gone away – and younger generations will still inherit them.
So now – more than ever – as we're hunkered down with children and tasked with the responsibility of educating them, let's keep putting the environment on the educational agenda.
We have scoured the internet to find out what families can do to learn about the issues, stay in touch with nature and be inspired to keep fighting for change. Here's our roundup of the best environmental homeschooling resources available.
BBC Bitesize lessons with David Attenborough
If your child dreams of being taught by legends like David Attenborough, head over to BBC Bitesize now! Each day you'll find new interactive lessons available in a range of subjects for different key stages. Look out for geography lessons from David Attenborough, as well as other subjects being covered by well-known sportspeople and entertainers.
Today is #EarthDay

Kids aged 7 – 11? Have you joined the Earth Squad?!
Gaming 🎮 but scienterrific 👍 https://t.co/vDqJ4duPHH#HomeSchooling #HomeSchoolingUK #EarthDay2020 pic.twitter.com/uLS65m5mGe

— BBC Bitesize (@bbcbitesize) April 22, 2020
Digital Ocean School
Surfers Against Sewage has always had a strong focus on education, and during this time of lockdown they're coming to the rescue again with their excellent Digital Ocean School.
Until the end of July, they will be hosting live lessons on their Facebook and Instagram pages. Tune in on Tuesday mornings at 11am on Facebook or 11.30am on Instagram to find out what your challenge will be. And if you can't make those times, head to the Digital Ocean School page, where you can download the resources and do the activities in your own time.
New resources are being created each week for Key Stages 1, 2 and 3 so there's something for everyone aged 5 – 14. From rock pools and rocky shores to plastic pollution and the circular economy, these are fantastic resources for families who care about our coastlines and oceans.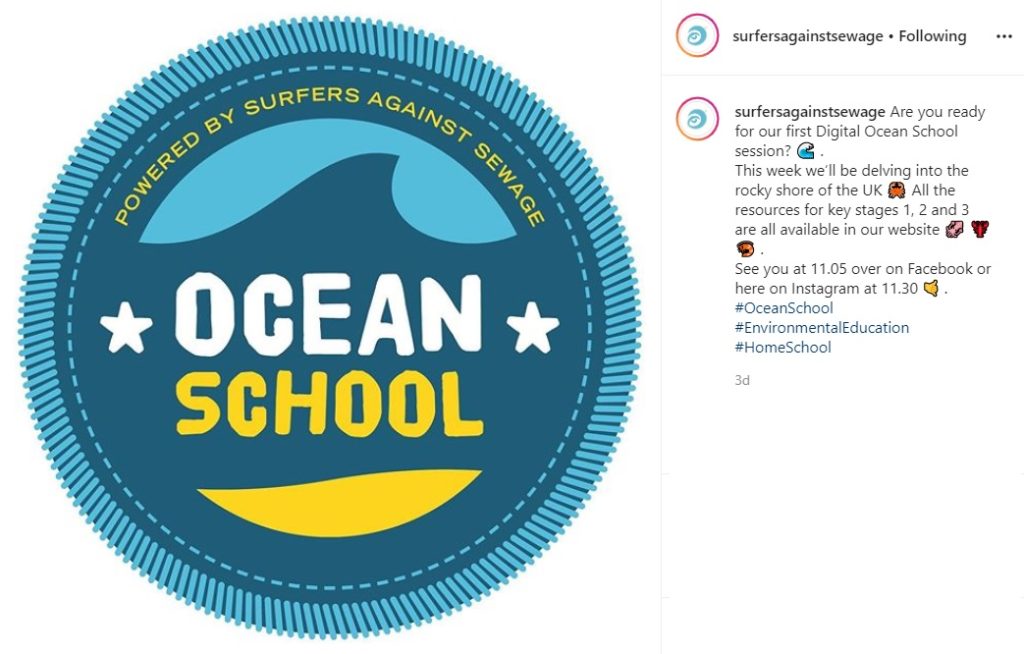 Kate Raworth's Donut Economics and feedback loops
Renegade economist and teacher at Environmental Change Institute, Kate Raworth's refreshing ideas are well worth exploring with older children. Her brilliant book, Doughnut Economics, looks at how we can guarantee that no one falls short on life's essentials, while ensuring that collectively we do not overshoot our pressure on Earth's life-supporting systems.
This recent tweet shows how Kate has explained the concept of feedback loops to her 11 year-old twins and applied it to the coronavirus situation. Taking this simple method and applying it to this global pandemic or plastic pollution provides us with some new perspectives on what and how our new normal might look like.
"Systems thinking is too advanced for undergraduates" an economics professor once told me.

I just taught the basics of feedback loops to my 11 y.o. twins and then they drew this.

It's time to teach & use the tools we all need for the complex challenges we face now & ahead. pic.twitter.com/IbDdM889ek

— Kate Raworth (@KateRaworth) April 26, 2020
Learning Through Landscapes
If you're lucky enough to have a garden or an outside space to visit at the moment, turn your time outdoors into a learning experience with ideas from Learning Through Landscapes. Their free outdoor learning ideas and outdoor lesson plans have been developed and proven by teachers and early years educators and handily sorted by key stage, curricular area and age suitability.
Younger children can get sensory with barefoot safaris, make their own rainbows or create fairy gardens. For older children, activities like investigating local invertebrates or animal seed dispersal games are a fun way to keep science and nature on the agenda.
Hi everyone👋– Here you go our week 4 activities 😍We have gone with a Green fingers theme; lots of springtime planting ideas 🌱🌼🌱 As always, we have added indoor alternatives for you too🌈🏠 https://t.co/eIAIx3p88S #ltlhomelearning

— Learning through Landscapes (@LtL_News) April 17, 2020
Materials Awareness
Never before has personal consumption been a hotter topic. This chapter from the book The Handbook of Sustainable Literacy – written by RAW founder Melinda Watson – delves into the ways we individually engage in the creation and consumption of products and materials. It is written to help empower learners to become active citizens by leveraging their consumer power and effecting change.
University students and adults keen to understand more about consumption can download the chapter on Materials Awareness and also find all other chapters from the book to download on the Brighton University website.
Handbook of Sustainable Literacy
National Geographic Kids
Want to make the most of the time during lockdown to teach your primary school children about important issues like plastic pollution, water conservation and recycling? Check out the National Geographic Kids primary resources.
They're aimed at teachers, but are easy enough for parents to follow. Sign up for a free account and you can access a number of resources across all subjects in the primary curriculum – find the environment resources here.
Tune into today's #ExplorerClassroom session on an Arctic adventure called "Meet the North" to learn more about the importance of cross cultural understanding & the power of asking questions. This event will have #ASL interpretation. See you at 2PM ET! 👋 #DeafEd #DeafEducation pic.twitter.com/dmXH9H3LTb

— Nat Geo Education (@NatGeoEducation) April 27, 2020
Outdoor Classroom Day
Outdoor Classroom Day takes place every year in May and encourages schools to get children learning outdoors. As schools won't be open this year, families can take the concept and incorporate more outdoor learning during lockdown.
Visit the website for outdoor lesson ideas, resources and guidance on how to make outdoor learning part of the daily routine. We love the idea of making solar kettles and seed bombs – and they will also be releasing a C19 adaption to the campaign soon while children are not at School.
Our lead NGO for the UK&I, @LtL_News, has launched a fantastic support group to guide parents with weekly updates on the opportunities for #outdoorlearning and play during #COVID19.

Pop over and join the group – what a wonderful idea! https://t.co/MEbw9hIVME pic.twitter.com/fVgmKuAwqu

— Outdoor Class UK&IRL (@OutdoorClassUKI) March 19, 2020
If you want to tackle the nature crisis close to home, you can also become a 'Backyard Nature Guardian' to help protect the planet for the future. If you think it's time to save the planet – for real, sign up at Backyard Nature to access the tools you need to protect your own patch of nature.
It doesn't matter how big or small your patch is. It could be a plant pot on a windowsill, a bit of grass close to home, or a corner of outdoor space. What does matter is that everyone can do something little and often to protect it, so that plants and wildlife can begin to thrive again.
Plastic Pollution Coalition
If you're looking for one place that curates all the best environmental educational resources, this is it. Plastic Pollution Coalition's resource list is epic – and as it's neatly organised into age groups, it's easy to navigate and find something that appeals quickly. There are resources suitable for children aged five right up to university. Many are created by American organisations, but the topics are global and universally relevant.
Older children and parents may also like to dive into their collection of media resources. Check out the round-up of inspiring Ted Talks, podcasts and videos. And, if you just need some inspiring ideas to ease the boredom, check out their 100 fun and educational things to do at home blog post.
RAW Foundation
Our sister charity, RAW Foundation, helps to educate, engage and empower young people to move towards sustainable consumption and production. Everything it does is systems-focused, solution-oriented and change-driven.
The charity's range of educational resources were developed for schools, but work brilliantly at home too. They include a classroom audit and interview activity to encourage children in key stages 1-4 to look at how much plastic we consume. The Follow The Thing lesson plan for key stages 3-4 investigates the invisible materials and processes of everyday plastic products.
The Story of Stuff
If you have secondary school children who are curious about the world this is a great website to explore.
Want to know more about how the current system of our obsession with Stuff is trashing the planet? That was the original premise behind The Story of Stuff Project – a subject that remains fresh and relevant, especially in light of the COVID-19 pandemic.
Since then the project has expanded with more 'the story of' videos, plus documentaries about plastic and water. There are also some useful interactive learning tools to help young people consider their roles as changemaker and citizen.
Find out how you can host or join a virtual screening of the #StoryofPlastic!

Learn more: https://t.co/8gTSkYJWbm https://t.co/Qe0OOy8c42

— The Story of Stuff Project (@storyofstuff) April 22, 2020
Twinkl
This homeschooling website has a huge range of resources right across the curriculum from early years to Key Stage 4 and includes SEND and English as an Additional Language resources.
There's a good range of environment resources for primary aged children, including lesson packs, activities, PowerPoints and worksheets on subjects including endangered animals, deforestation, plastic pollution and recycling. Loved by teachers and homeschoolers, Twinkl knows how to pitch its resources, using bold illustrations and accessible activities that are easy to dip in and out of.
Tomorrow, watch penguins Potato, Marmalade and Ziggy as they prepare for lunch. Discover penguin facts, learn about their habitat & personality traits with @london_aquarium's video and Twinkl resources. Join our HLH tomorrow at 2pm to take part: https://t.co/lqGLDEt3Pk pic.twitter.com/a7xkIg1rBD

— Twinkl Resources (@twinklresources) April 30, 2020
The Wildlife Trusts
If you're stuck indoors and missing the natural world, The Wildlife Trusts has developed some simple ways to observe nature without leaving your home. Watch peregrines, barn owls, badgers and bats through their webcams, or head to the Wildlife Watch YouTube channel for wildlife videos made by children.
🎵Ever heard a bird singing and wondered what it is??🎵
Tom from The Wildlife Trusts is here to help! Join him for a lesson on birds and their songs 🐦 🐤 🦉 https://t.co/Ec6FpuMmAW #DawnChorusDay pic.twitter.com/p8Hq76esTn

— The Wildlife Trusts (@WildlifeTrusts) April 29, 2020
Have we missed any brilliant environmental homeschooling resources that you're using during lockdown? Let us know via Twitter @RAWBottles.