By Melinda Watson, founder of RAW Foundation
As a Turkish resident, I've witnessed over the last five years how rapidly the country has embraced Western consumerism. And with that, a dramatic but inevitable proliferation of single-use plastic.
Despite a fantastic mend and reuse history and culture, the problem is, very little plastic is collected for recycling and virtually no plastic is recycled. And, unlike other European countries, access to safe drinking water cannot be guaranteed, which makes reuse and refill tricky, because drinking water points cannot be relied upon.
Overcoming cultural barriers
There are cultural barriers to overcome too. Even though a growing number of hotels, restaurants and cafés have had water filters fitted, they are struggling to instil customer confidence in drinking water from them – especially amongst the Turkish tourists.
Along with a rise in fast food, an increasing cleanliness obsession is also contributing to plastic waste. Restaurants automatically hand out plastic chip sticks with everything – often decorated with a dolphin, which I find particularly ironic.
Factor in all the straws, sachets, fast food containers and throwaway cutlery and you can see how the Turkish tourism industry is feeding the plastic crisis.
Although awareness about plastic pollution is spreading fast, I still see open dumping and people chucking plastic out of their cars onto the side of the road on a daily basis. People are not fully connecting the dots between their everyday actions to the extent of the negative impact on their marine life, vital tourism sector, livelihood and human health.
Just how much is Turkey contributing to plastic pollution?
My anecdotal observations are backed up by research. Turkey is the second-largest contributor to plastic production and plastic waste mismanagement in the Mediterranean. On top of this, Turkey has become one of the Top 10 global waste importers – with exported waste coming from the United Kingdom, Belgium and Germany. As a result, only 6% of Turkey's domestic plastic waste is recycled.
The majority is single-use (throwaway) plastic products and packaging.
About six years ago, I decided that something had to be done. I was on Patara beach, one of the few remaining breeding grounds for Green turtles and the endangered Loggerhead turtle in the Mediterranean.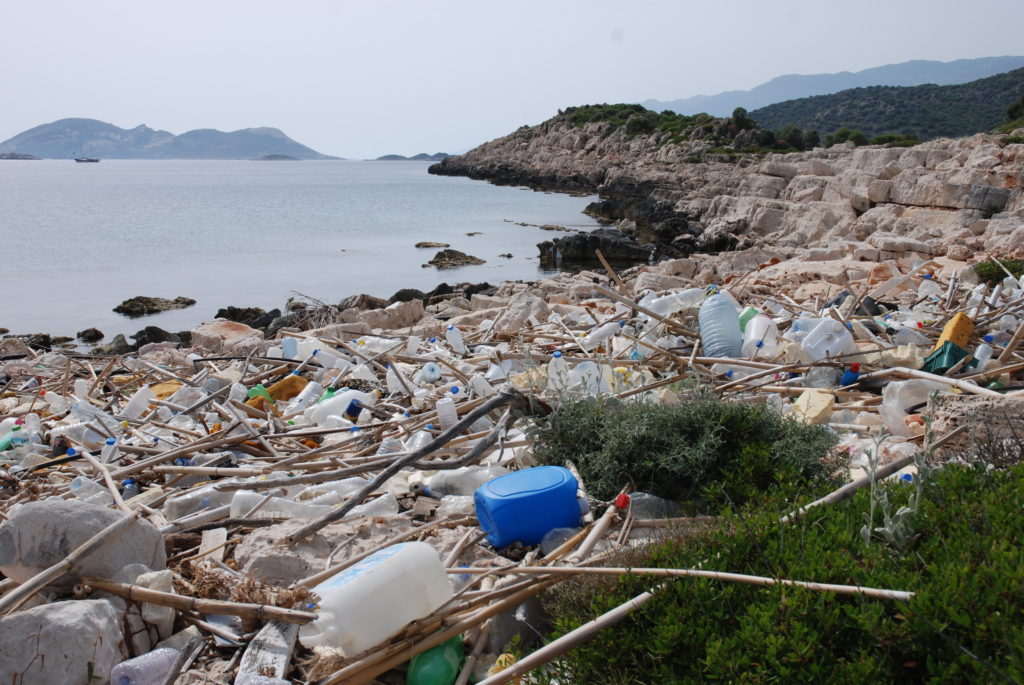 The volume of plastic on the beach stopped me dead in my tracks. The enormity of our footprint – over 500 single flip flops, never a pair – brought me to my knees. I sat and wept, thinking – 'how can we do this?'
I was incensed and deeply saddened, but also filled with resolve.
This deep emotional connection kickstarted a long journey to establish RAW Foundation Turkey, and it also acted as a catalyst for my first research trip to track the world's plastic footprint around Africa.
Developing a plastic-free campaign for Turkey
Back then, I knew my campaign in Turkey had to start by building awareness, and that things could change if people were given access to information. So, I began by talking to locals about plastic pollution – which earned me the nickname 'the plastic lady', but it worked!
In 2015, I called in local ministers for a public meeting, organised screenings of the film 'Trashed' and other videos, as well as educational visits to all the local schools.
Since then, we've developed 'solution-focused' campaign materials to prevent plastic pollution at source, and fostered new partnerships to take things forward. Our Plastic-Free Campaign includes a Plastic-Free Action Pack to encourage and support all local tourist businesses to commit and sign up to going plastic free.
By establishing a plastic-free model in Kas, Kalkan and Patara, RAW Foundation Turkey aims to inspire change towards a zero-waste future in Turkey.
Re-use not single use
The core message of the campaign is 're-use not single use'.
It has been brilliant having The Kaş Tourism Association on board as they actively work to include sustainable development and nature-friendly practices into all levels of tourism along the Lycian Coast. We also partnered with the town council Kaş Belediye, which gives an important official stamp to the campaign, as well as local eco groups KASAD, Eco Kaş, Eco Kalkan and Dekamer, a sea turtle rescue and rehabilitation centre.
Around 50 businesses have signed up so far. The Plastic-Free Action Pack they receive includes posters to display, as well as a business guide and the business standards that we expect them to work towards. This involves seven plastic-free standards, which focus on the Top 10 single-use plastic items that can be found on any beach everywhere in the world.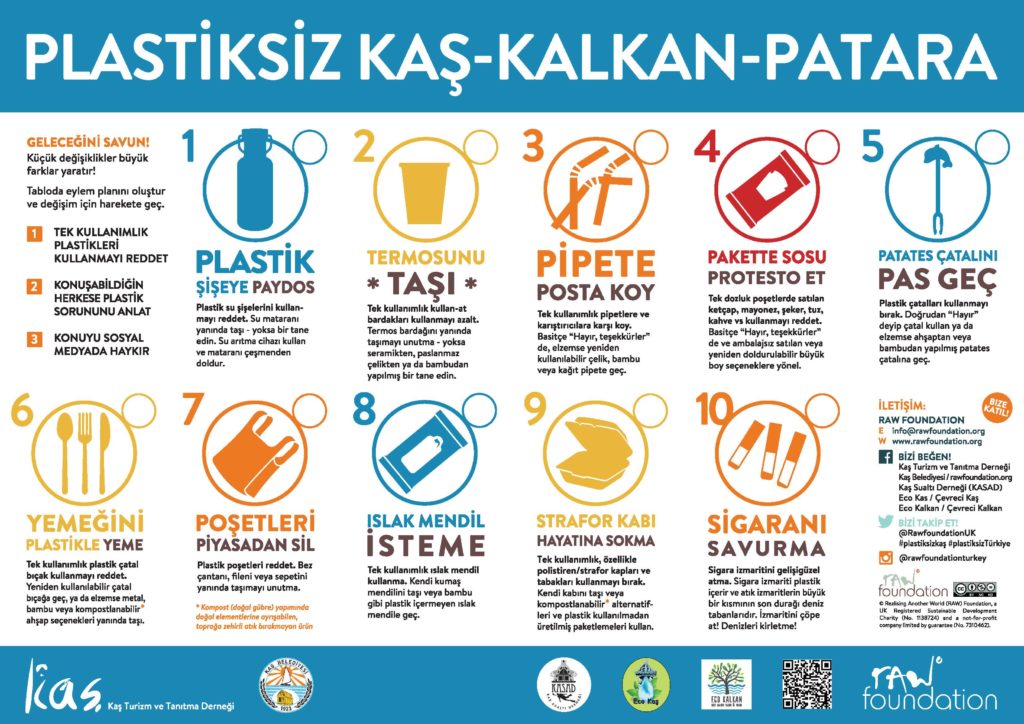 Only when businesses can prove they've reached all seven standards, do they receive an award to display in their establishment.
Motivating locals to take ownership
It's been hard work to get the campaign established as the programme is resource intensive. It relies heavily on a team of brilliant volunteers who actively recruit new businesses, establish baseline data and monitor their performance.
I can already see that the campaign is creating change, and as other towns in Turkey continue to show interest in joining the campaign, we need to focus on keeping business owners motivated and taking it out to a wider audience.
The key thing for me is to see locals, especially young people, taking ownership of the campaign to take it forward.
And instilling local businesses with the confidence to say no to tourists demanding bottled water, chip sticks and straws is a tough one for them to overcome – but they are getting there.
Which way does Turkey want to go? Do they really want to pursue a Western-based mass tourism, overconsumption model even further, or do they want to hold on to what they already do best and take a stand? I am hopeful, that as part of a positive programme, RAW Foundation Turkey can influence attitudes and mindsets towards a brighter future.