Women are doing amazing things when it comes to fighting the plastic tide. From pioneering campaigns to innovative solutions, it's often women leading the way.
For International Women's Day, we'd like to celebrate the individuals dedicating their lives to plastic pollution and shout about their successes. Here are just some of the women who inspire us, and who give us hope that change is possible.
Melinda Watson – RAW Foundation
Who better to start with than our own founder and plastic warrior, Melinda Watson. A hugely influential activist and educator, Mel set up our sister charity, RAW Foundation, over a decade ago with one goal in mind – to rid the world of pointless plastic.
Her work has taken her all around Africa to investigate plastic pollution and she has recently returned from a four-month expedition around South America. These epic journeys allowed her to analyse the plastic waste of each region on a scale never attempted before, and engage some of the world's most remote communities on the topic of plastic waste.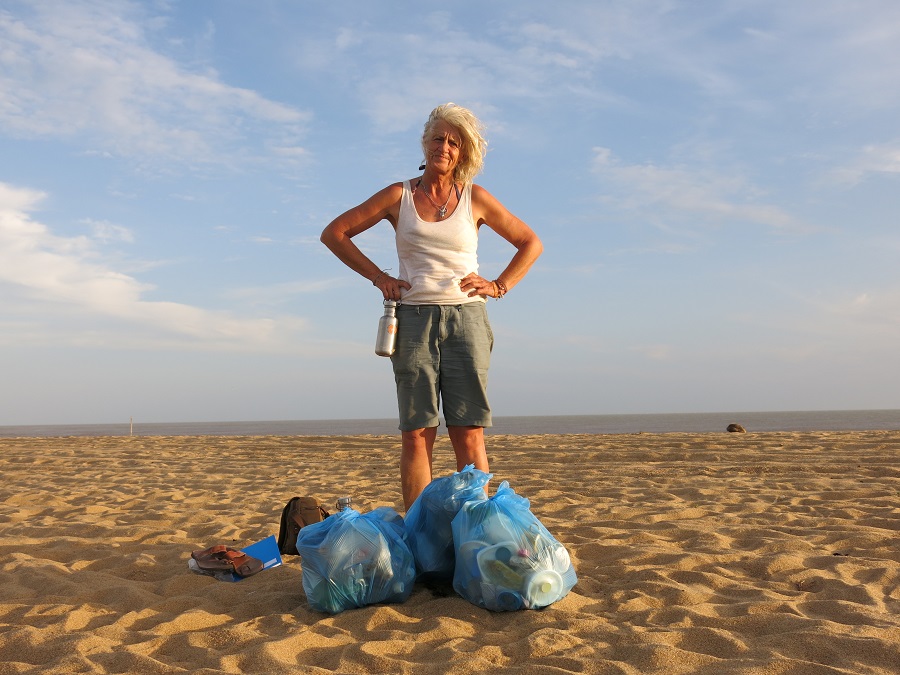 Melinda's extensive collaborations with festivals has resulted in many large-scale events significantly reducing their consumption of single-use plastic on-site, including working with WaterAid to make Glastonbury the first Refill water festival site.
During this work, Melinda saw the need for a solution to reduce the number of single-use plastic water bottles at festivals and events. She developed a brandable stainless-steel reusable water bottle and RAW Bottles was born, with profits supporting the foundation's vital campaign work and free-to-use resources, such as the Making Waves guides to going plastic free.
Her drive to address plastic waste at festivals led RAW to partner with the Association of Independent Festivals (AIF) on the Drastic on Plastic campaign. This encouraged more than 60 festivals to pledge to ban single-use plastics from their events by 2021.
Natalie Fee – City to Sea and Refill
If there's one name that's synonymous with the refill revolution, it's Natalie Fee. Back in 2014, Natalie was awoken to the problem of plastic pollution after watching the film 'Albatross'. That started a journey to tackle the issue head-on, and she set up City to Sea to campaign and raise awareness.
Natalie shares RAW's passion to turn the tide on single-use plastic water bottles, and the Refill scheme is a brilliantly simple solution. It encourages businesses to offer free tap water, and people to carry a reusable bottle. Just search on the Refill app to find water on the go and there's no need to buy bottled water.
But Natalie's drive doesn't stop there. City to Sea also led the #Switch the Stick' campaign to stop the sale of single-use plastic in cotton buds and raised awareness about plastic-free periods and unflushables. She has also just released a brilliant new book called 'How to save the world for free' to give people easy, fun and free ways to do their bit.
Shining on a street corner near you (if you live in London!). Thanks @LaurenceKingPub for getting #HowtoSavetheWorldforFree out into the world just when we need it most. ?

Read it for tips on green living, democracy, economics & maximising your impact! https://t.co/BIbEJGzBJs pic.twitter.com/U8cziFKbtr

— natalie fee (@nataliefee) December 1, 2019
Jo Ruxton – Plastic Oceans UK
Jo is a brilliant example of a woman achieving great things against the odds. She left her job to direct and produce her own documentary without any financial backing. A Plastic Ocean has now picked up endless awards, and Sir David Attenborough described it as "one of the most important films of our time".
Along her journey, she founded the organisation Plastic Oceans, with the mission to 'stop plastic reaching the oceans within a generation'. They do this through an impressive education programme to enable teachers to discuss plastic pollution within the curriculum and through funding the science into emerging solutions. They also work closely with businesses to help them adapt to changing customer demands whilst reducing their plastic footprints.
We were the frontpage feature of @geoscientistmag this month! Read about the inspiration and journey behind A Plastic Ocean from our founder @joruxton and researcher @JessicaHickie https://t.co/21aJhozONE

— Plastic Oceans UK (@PlasticOceans) October 29, 2019
Jo Royle – Common Seas
When you've spent over 20 years as a skipper on expeditions to the Antarctic, Sundarbans and on trans-Atlantic voyages, it's not surprising that saving our oceans would be top of your agenda. It was that experience that motivated Jo Royle to set up Common Seas, to design out marine plastic pollution.
As a founding member of The Plastic Pact, Common Seas was instrumental in encouraging more than 100 major businesses to pledge to eradicate single-use plastics. It's this kind of collaborative approach that sums up the success of Common Seas. It recognises that 'plastic pollution is too big and too complex a problem to solve alone' and works with the right experts across the globe to make change happen.
Seeing plastic building up on beaches in the Antarctic made me retrain from a sailor to an activist. My heart pangs to read more evidence that our addiction to consuming what we want, when we want it – is devastating the systems that sustain all life.https://t.co/K5kUPiJiLC

— Jo Royle (@Jo_Royle) January 25, 2020
Sian Sutherland – A Plastic Planet
In 2017 Sian co-founded A Plastic Planet – a global social impact movement to 'ignite and inspire the world to turn off the plastic tap'. In just a few years, the movement has already encouraged behaviour change within big business, from launching the Plastic Free Consumer Trust Mark for brands to the 'Working Towards Plastic Free' Commitment Mark for industry.
Sian's unwavering dedication is just as visible in the consumer space, having launched the UK's first plastic-free supermarket aisle. Her latest target is the humble sachet. 'Sack the Sachet' aims to get sachets included in the European and UK legislation outlawing 'throwaway' items such as plastic straws and cotton buds.
Somehow the #plasticsachet has escaped any attention from governments and most industry and is completely missed in the proposed single-use bans and taxes. We need to #sackthesachet urgently – systems, materials and behaviour changes are possible today. #EnvironmentBill https://t.co/0JsLnDG5sO

— Sian Sutherland (@siansutherland) February 26, 2020
Ella Daish – #EndPeriodPlastic
One woman on a mission to #EndPeriodPlastic – Ella has single-handedly racked up over 202,000 signatures for her petition to 'make all menstrual products plastic free'.
The campaign calls on manufacturers and supermarkets to remove plastic from the period products they produce and has already had some significant successes, with Sainsbury's and Aldi both agreeing to scrap own-brand plastic tampon applicators. And Ella continues to tirelessly lobby big brands like Lil-Lets and Tampax to encourage them to do the same. Nice work!
Lil-Lets HQ 2019 vs 2020. Last year I did a peaceful demonstration & asked to speak to someone, but they declined. This year my request was accepted & I was invited back to meet them to discuss the campaign. What a difference a year makes, persistence pays off! #EndPeriodPlastic pic.twitter.com/2T82h78veY

— Ella Daish (@ella_daish) February 21, 2020
Joanna Poulton – Waste Not Bristol
Joanna is someone we admire for her personal dedication to the cause. She set up Waste Not Bristol from scratch on her own after she saw a need to help make plastic-free living more accessible. As she puts it "I'm not officially a business or a charity – just an individual raising money to directly fund kits that I donate to charities."
Joanna's amazing plastic-free #accesskits (which include RAW Bottles) have been given to some of the most-deserving people in Bristol, including Refugee Women of Bristol, Help the Homeless Bristol & Creative Youth Networks.
Read more about Joanna's journey with Waste Not Bristol.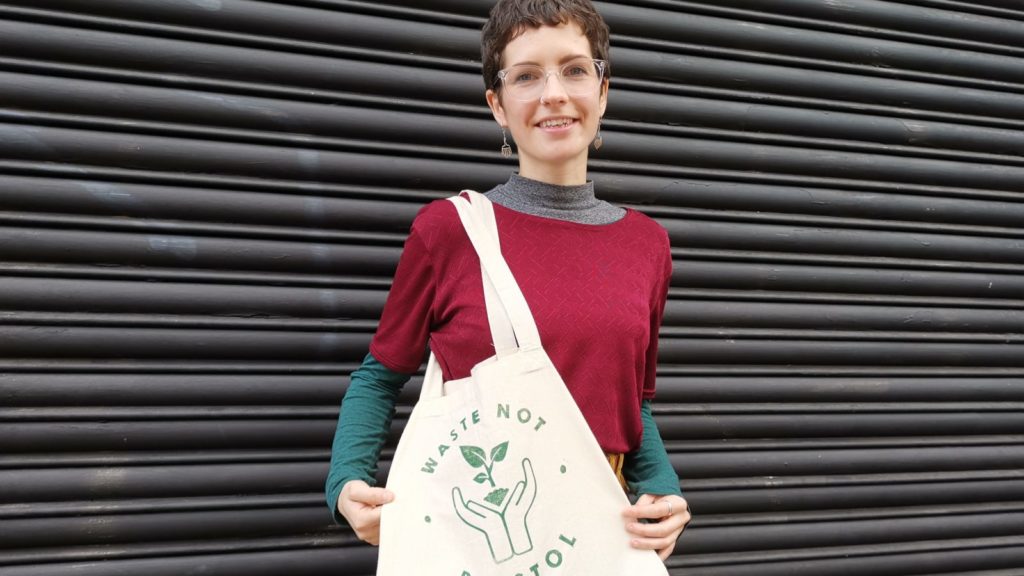 Who is your favourite female plastic pioneer? There are so many incredible women fighting this cause with us and we'd love to hear about them – tweet us your thoughts @RAWBottles.